San Angelo, TX- San Angelo Insurance provides insurance advice and products to customers in San Angelo, TX and surrounding areas. They have been in business for years and have continued to exceed client expectations by working closely with them to identify their most pressing risks and insurance needs. Insurance experts are dedicated to providing personalized services to each client, allowing them to benefit from the best protection for their current financial situation.
San Angelo, TX residents looking for the best insurance products and policies are invited to visit the experts in their office today. Insurance professionals pride themselves on educating and guiding customers, helping them understand their options and offering policies tailored to their needs. Vehicle owners can discuss their auto insurance needs with the professionals. The experts will guide them through the different coverage options available, the prices and what each of the coverage options offers in terms of liability and protection.
Homeowners in San Angelo, TX who are tired of paying exorbitant insurance premiums can discuss their needs with the professionals in the Insurance Agency. Professionals will guide them through the various home insurance policies and coverage options available. Those with mobile homes will also have the option of getting the right insurance for their mobile homes.
"San Angelo Insurance is an independent insurance agency dedicated to serving the San Angelo community for over 15 years. We represent a wide range of insurance companies and find a personalized insurance policy for each client that meets their needs and budget. We are committed to the principles of service, integrity, reliability and professionalism while providing our valued customers with the highest quality of service. Passion is at the heart of our business; moving forward, innovating and continually improving," says owner, Ricky Villarreal.
Residents of San Angelo are invited to explore other types of San Angelo Insurance San Angelo TX, with the help of the company and its professionals. They offer other types of insurance products such as life insurance, dental, health, Medicare Gap, RV and ATV insurance, motorcycle insurance, boat insurance, etc. .
Customers can enter the San Angelo Insurance San Angelo TX office to learn more about their commercial insurance products. The agency offers commercial fleet insurance, business insurance, professional liability insurance, workers' compensation insurance and others.
Explore San Angelo Insurance's range of home, renter, condo and other insurance products. Visit them at 1102 N Chadbourne St, San Angelo, Texas 76903, or call 325-658-2790. For more information, visit their website.
Media Contact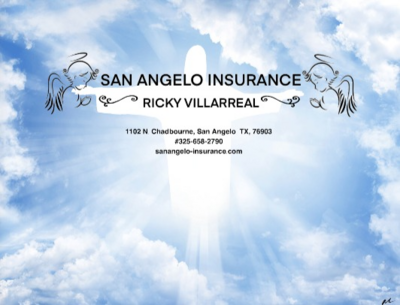 Company Name
Holy Angel Insurance
Contact Name
Ricky Villarreal
Call
(325) 658-2790
Address
1102 North Chadbourne
Town
holy angel
State
TX
Postal code
76903
The country
United States
Website
https://www.sanangelo-insurance.com/